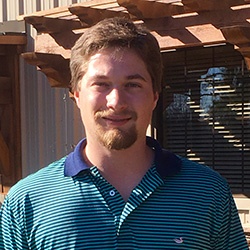 Name: Justin Cox
Hometown: Collierville, Tennessee
University(s) Attended and Major: University of Tennessee at Martin, Plant and Soil Science/Landscape and Golf Course Management
Family Status: Engaged
Length of Employment with Michael Hatcher & Associates, Inc.: 5 months
I was attracted to work at Michael Hatcher & Associates, Inc. because: The quality of work done and the ideal position available for me.
Job Title: Entry Level Designer/Sales
Primary Job Responsibilities: Design residential landscapes while working closely with senior designers.
The best thing about my job is: Doing what I love every day.
My favorite project at Michael Hatcher & Associates, Inc. is: To date, a residential property on Forest Hill Irene.
I would describe the company culture and environment as: Upbeat, friendly and moving in a positive direction.
The most important thing I have learned from working in the landscape industry is: The difference between want and afford.
The best thing about living and working in Memphis/Mississippi is: Enjoying everything that south has to offer.
The biggest influence on my career has been: My environmental landscape design lab instructor.
My short-term career goals include: To continue my education and grow as a designer.
The most important characteristic of a leader is: Easy to work with and for and able to communicate during all aspects of day-to-day operations.
My one piece of advice to a new graduate or person seeking employement in the landscaping industry would be: To gain experience, seek internships at multiple companies.
If I didn't work in the landscaping industry I would be: A land developer or golf course designer.
When I'm not at work I'm: Golfing, hunting or working on my farm.
If I won the lottery I would: Buy a bunch of land and build a luxury shop house.