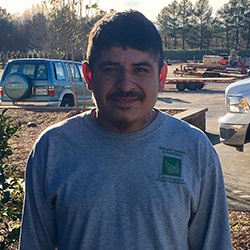 Name: Guillermo Camacho
Hometown: Guanajuato, Mexico
Family Status: Engaged
Length of Employment with Michael Hatcher & Associates, Inc.: 12 years
I was attracted to work at Michael Hatcher & Associates, Inc. because: I love working outside.
Job Title: Foreman
Primary Job Responsibilities: To oversee that everything on a project is going well and up to the client's standard.
The best thing about my job is: The people that I work with.
My favorite project at Michael Hatcher & Associates, Inc. is: A high-end residence that I'm able to maintain twice a week.
I would describe the company culture and environment as: Hard working and productive.
The most important thing I have learned from working in the landscape industry is: How to mow, prune and manage a crew.
The best thing about living and working in Memphis/Mississippi is: Shelby Farms.
The biggest influence on my career has been: My uncle.
My short-term career goals include: Becoming a manager.
The most important characteristic of a leader is: Being personable.
If I didn't work in the landscaping industry I would be: A soccer player.
When I'm not at work I'm: Spending time with my family and friends.
If I won the lottery I would: Buy a nice house and help my family.