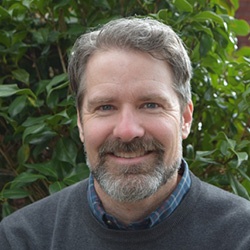 Name: Greg Pope
Hometown: Memphis, Tennessee
University(s) Attended and Major: Mississippi State University, Landscape Architecture
Family Status: Married, for 24 years this June, with 2 children.
Length of Employment with Michael Hatcher & Associates, Inc.: Since February 2017.
I was attracted to work at Michael Hatcher & Associates, Inc. because: I have known about Michael's work and mission in the local market for years and highly respect the team.
Job Title: Senior Designer/Estimator/Sales
Primary Job Responsibilities: Meeting with clients and prospective clients, designing based on clients needs and facilitating project construction.
The best thing about my job is: The team of talented people, who are creative and energetic with a focus on quality.
My favorite project at Michael Hatcher & Associates, Inc. is: So far, a few small projects going on now. I like them all.
I would describe the company culture and environment as: Professional, but welcoming and comfortable, with focused intensity to accomplish the goal.
The most important thing I have learned from working in the landscape industry is: Always treat the client like you would want to be treated.
The best thing about living and working in Memphis/Mississippi is: The relaxed atmosphere under plenty of trees.
The biggest influence on my career has been: My faith.
My short-term career goals include: Growing in relational aspects and simplifying my design approach.
The most important characteristic of a leader is: Do not ask of others what you are unwilling to do yourself.
My one piece of advice to a new graduate or person seeking employement in the landscaping industry would be: Have patience and respect when entering the workforce. Know that good things do come from small beginnings.
If I didn't work in the landscaping industry I would be: An artist.
When I'm not at work I'm: Working on the garden or painting.
It might surprise people but: I am as comfortable at a theatre performance as I am in a tree stand at my local hunting spot.
If I won the lottery I would: Hand out bills to strangers and take my wife out to dinner more often.