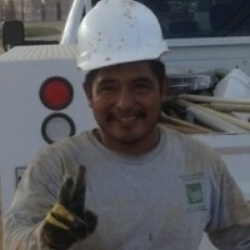 Hometown: San Miguel, Oaxaco, Mexico
University(s) attended & major: I didn't attend a university.
Family Status: I am married with 5 kids, 3 boys and 2 girls
Length of employment with MH&A: I have worked at Michael Hatcher and Associates for 2 1/2 years now.
What attracted you to working for MH&A? It's close to home, which allows me to spend time with my family.
Job title: Landscape Construction Crew Member
Primary job responsibilities: Gardening and Irrigation
Best thing about my job: Gaining more knowledge about my field of work.
Favorite project you have worked on at MH&A: There is no specific project in mind. I've enjoyed working on each one just the same.
I would describe the company culture/environment as: The company is a good work place. Everyone is always nice.
Most important thing you have learned from working in the landscaping industry: I am learning more about irrigation than I knew before.
Best thing about living & working in Memphis (or Mississippi): The best thing about living and working in Memphis is that there are a lot of things to do.
Biggest influence on career: My family has been a major influence.
Short-term professional goal: To help complete the Tanger Mall project, and spend as much time as I can with my family.
Long-term professional goal: Continue working.
Most important characteristic of a leader: Responsibility
Piece of advice for a new graduate or person seeking employment in the landscaping industry: I would advise that they be good listeners and fast learners.
If I didn't work in the landscaping industry, I would be: In the painting industry.
When I'm not at work I'm: Spending time with my family, shopping
Something about you that would surprise people: Nothing at all. I'm the same person on and off the clock.
If you won the lottery, you would… Donate and give to family and friends.