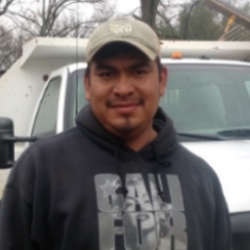 Name: Enrique Gomez Vargas
Hometown: Mexico City, Oaxaca
University(s) attended & major: None
Family Status: Married
Length of employment with MH&A: Almost a year
What attracted you to working for MH&A? I needed a full time job
Job title: Foreman
Primary job responsibilities: Make sure everyone's using equipment correctly, keep work area neat, and operating machines.
Best thing about my job: Seeing the outcome of the work.
Favorite project you have worked on at MH&A: The Kitchen Community project
I would describe the company culture/environment as: Good working environment
Most important thing you have learned from working in the landscaping industry: I've learned how to lay bricks and I've also learned how to safely use equipment.
Best thing about living & working in Memphis (or Mississippi): Great atmosphere
Biggest influence on career:
Short-term professional goal: Learn how to drive a trailer and do a great job.
Long-term professional goal: Become more responsible, at work and at home
Most important characteristic of a leader: Responsibility and Safety
Piece of advice for a new graduate or person seeking employment in the landscaping industry: Always wear your safety helmet
If I didn't work in the landscaping industry, I would be: Concrete work or Construction
When I'm not at work I'm: Resting, spending time with family
Something about you that would surprise people: I'm a very clean person.
If you won the lottery, you would… Buy a home for my family and continue to work for Michael Hatcher & Associates