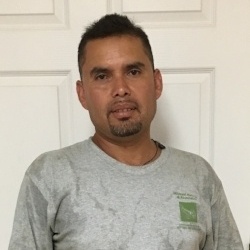 Name: Antonio Rivera
Hometown: Guanajoato, Mexico
Family Status: My wife and children.
Length of Employment with Michael Hatcher & Associates, Inc.: 16 years
I was attracted to work at Michael Hatcher & Associates, Inc. because: I enjoy landscaping and the people that make up the company.
Job Title: Foreman
Primary Job Responsibilities: Manages the look of landscaping properties.
I would describe the company culture and environment as: A great company that continues to grow.
The most important thing I have learned from working in the landscape industry is: Irrigation and lighting skills.
My short-term career goals include: To continue to grow within the company.
The most important characteristic of a leader is: Their organization of both people and projects.
My one piece of advice to a new graduate or person seeking employment in the landscaping industry would be: To work hard.
If I didn't work in the landscaping industry I would be: A soccer player.
When I'm not at work I'm: Spending time with my family.
If I won the lottery I would: Buy a big house.